Meet the Equestrian
Hannah Klinedinst - Fort Worth, Texas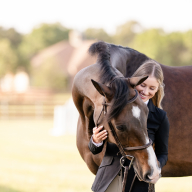 5 Active Listings
9 Products Sold
Go-To Riding Outfit:
I usually love wearing all one color; monochromatic looks are my fave. I'll do this with grey, navy, or black. I do love a crisp white riding shirt, but we all know how hard it is to keep it clean at the barn! Sometimes I like to make a statement and I'll do a fun belt or something. I love equestrian fashion!
Why I love riding:
There are so many reasons why I love riding, but I think the main one is the partnership between rider and horse. It's something unexplainable to outsiders but every equestrian gets it. This sport has taught me so much about myself and has shaped me into the person I am today.
Years Riding:
If we are counting my very first lesson EVER.. I've been riding for about 15 years.
Absolutely love these! They fit like a glove. Thank you so much 🥰
Hannah's Closet